Facing the Night

A Diary (1999-2005) and Musical Writings

"Rorem once again provides insightful reflections in elegant prose that demonstrates his ease in a form few writers dare to brave."
2/2011 Review in Forbes....
Wings of Friendship


| | |
| --- | --- |
| | When it comes to letter writing, do artists resemble their letters? Yes, except when they don't. So wrote Ned Rorem in his 1998 review of Prokofiev's letters. Over the years Rorem has shown us the craft of self-examination in his five elegant and moving diaries that span the last eight decades. But besides the publication of his correspondence between himself and Paul Bowles, he has never published the vast correspondence he shared with a sublime mix of people—Leontyne Price, Virgil Thomson, Reynolds Price, Angela Lansbury, Judy Collins, Gore Vidal, Cynthia Ozick. In Wings of Friendship, Rorem's letters to these friends and to more than 40 others are assembled in chronological order and reveal the range of his interests and the depth of his passions—a heart laid bare through billets-doux. |
A Ned Rorem Reader


| | |
| --- | --- |
| | Rorem is an accomplished artist in two realms, music and literature, in the latter as a diarist as well as an essayist on music. He scandalized America with The Paris Diary (1966) and continued to in several more tell-all diaries focused on intimate encounters with the rich, famous, and beautiful. In Lies (2000), however, he poignantly reflected on his dying lover and many friends who have succumbed to AIDS. This book excerpts the supposed best from the diaries and Lies and re-presents it in three topical sections on the art of the diary, music, and death and acquaintances who have died. The departed he writes about include both people he loved--among them, Leonard Bernstein, Samuel Barber, and Frank O'Hara--and some he disliked, such as Truman Capote. Lacking the shock value of some of the books from which it draws, this reader offers instead a touching self-portrait in words that artfully highlights Rorem's writing and thought. -- Michael Spinella |

&copy American Library Association Lies: A Diary


| | |
| --- | --- |
| | "For 40 years, the diaries of Ned Rorem have been ideal bedtime reading for musicians. This first installment of the new century, covering 1986 to 1999, parades a few of Rorem's familiar themes: insomnia, self-contradictions, letters to the editor (some never sent, some never published), and, of course, notes on his own music (including an especially lovely commentary on the English Horn Concerto ). There are some unexpected anecdotes as well, including one about dinner with Nancy Reagan, an appreciation of Frank O'Hara, and the chronicle of a long-running dispute with neighbor Itzhak Perlman's air conditioner (the air conditioner wins). Rorem appraises new music, slamming Boulez, Schnittke, and Bruce Springsteen (who share good company with Beethoven and Mother Teresa), but there is a sudden about-face on Rorem's former bęte noire, Elliott Carter. This time, however, the tone is darker than before because death is all around. Rorem's parents, in separate wings of a nursing home, die within months of each other. And above all, the diary covers the long decline and death of partner Jim Holmes, who suffers from Crohn's disease, cancer, and HIV (he withholds his discovery that he's been carrying the virus from Rorem for several months). The final third of the diary, when Holmes's pills alone are described as costing $15,000 a year, is achingly sad, but somehow, Rorem avers, "the purpose of a diary is to evade real life." He thinks that "nobody sings my songs anymore," so it is to be hoped that he was heartened by Susan Graham's sensational Rorem anthology released in 2000, as well as his 2001 Grammy nomination for "best contemporary classical composition" for the song cycle Evidence of Things Not Seen. Rorem's prose, as ever, is delightful and instantly recognizable as his alone: "there never was a Great Man in America, except maybe Martha Graham." --William R. Braun |
The Paris Diary
"I couldn't put it down." - Virgil Thomson


"Worldly, intelligent, licentious, highly indiscreet." - Janet Flanner


"A fascinating mixture of wisdom and innocence, as abosrbing as a fine novel." - William Inge


"Rorem's prose is supple, vivid, arresting; his candour is engaging." -- The Times Literary Supplement

Music from Inside Out
"Ned Rorem, who is without doubt one of the great composers of our time, has a gift for explaining in words - as he does in tone - what being a composer is like in an era when few composers are liked." - Jay Harrison


"The sections on song writing are especially perceptive; no surprise, since Mr. Rorem is considered by many to be the best living composer of art songs. The brief musical musings from that now famous Paris Diary are engrossing enough to make the reader wish for more." -- The New York Times Book Review

The New York Diary
"His intelligence never permits him to be blinded to the truth. He is candid to the point of scandal ... racy yet poetic, earthy yet exquisite." -- The Saturday Review


"Rorem is not only a remarkably creative composer of music, but also a marvelous writer. His self-analysis in his diaries contains two extremely rare ingredients: a ruthless and utterly uncompromising capacity for examining the elusive and fascinating self and a poetic approach to such psychological depths." - James Dickey

Music and People
Critical Affairs
Pure Contraption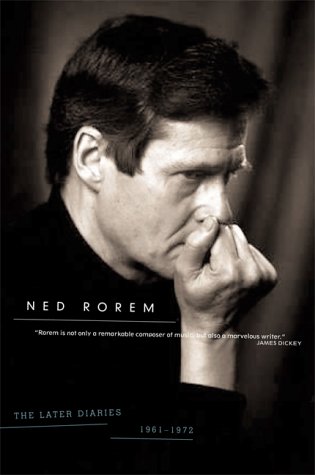 The Later Diaries
"Rorem commands a rare gift of immediacy, a flair for verbal poignance. He is never less than credible and creditable. He is magnificently committed to his own ideals, wondrously immune to cliché." -- The Los Angeles Times


"This period is particularly interesting, covering the time during which Lions, Miss Julie, and Poems of Love and the Rain were composed and most of his books written." -- Library Journal


"This diary is as engaging to read as his Paris and New York Diaries were, but it has a new and somehow moving tone.... Rorem's open-ness about his life, his own art, his view of the art of others (sometimes very full of idiocentricity and carping, but then what readable criticism is not?), his agonizing about the creative process - all of it makes for a remarkable set of entries into a continuing record.... [These diaries] may well turn out to be an enduring twentieth-century document." -- The New Republic

An Absolute Gift
Paul's Blues
The Nantucket Diary
Setting the Tone
Settling the Score
"Ned Rorem is a writer of elegance, grace, wit... a person of sensitive and rigorous intellect to match his lusts and ambitions." -- The New York Times


"Very few American belles-lettrists can write with as much depth and wit...as Ned Rorem. The admirable questioning and honesty of his vision are...especially remarkable in his essays on music." - Francine du Plessix Gray


"A marvelous aphoristic candor, winning and vivid." -- The New York Review of Books

Knowing When to Stop
"Knowing When to Stop is the scintillating chronicle of how a gifted, remarkable, good-looking young man from the Midwest grew into a leading American composer, one of the finest craftsmen of art songs." -- TIME Magazine


"This extraordinary and paradoxical book [is] consistently absorbing and provoking." -- The Washington Post Book World


"Music, men and crisp memories.... One reads on, paralyzed with pleasure by the flashing intelligence, the exact, colorful mot, the endless quotability." -- Publishers Weekly


"Mr. Rorem's appetite for life, ideas, language and music is appealingly voracious. It's clear, and we can be thankful for it, that he doesn't know when to stop." -- The Washington Times


"Wordy half-a-life story by tireless composer and tiresome raconteur and diarist Rorem (The Nantucket Diary, 1987, etc.). Rorem is one of the great 20th-century composers of art songs: brief, pithy, and often witty compositions that have become a fixture in the vocal repertoire. Sadly, his writing is as verbose and overwrought as his music is to the point. In this bulky tome, he is only able to recount the first three decades of his life, up to 1952. Raised in Chicago, he devotes the first third of the book to his young life, mostly focusing on his precocious gay cruising in the city's parks. The narrative then turns to music school at Curtis and Juilliard; his early days in New York City; and his artistic roamings in postWW II Paris and Morocco, where he encountered such luminaries as Leonard Bernstein, Virgil Thomas, Jean Cocteau, Tennessee Williams, and Paul Bowles. Rorem is such an egotist that his portraits, even when sympathetic, are often reduced to sometimes pithy, sometimes annoying aphorisms (Bernstein ``forever combined generosity with competitiveness''; John Cage is ``a fake...but a fake what?''). When he's not expounding barstool philosophy (``the artistic tendency is not there from the start...what is there...is the gene of quality'') or overblown, ponderous prose (``I examined the world in a grain of sand, the civilizations in the furrows of that porous brick an inch from the eye, and wept at the limitless melancholy latent in this new perspective''), he's offering a catalogue raisonn, as it were, of his sex life--and incidentally of his musical works. His attempts to explain away his often blatant anti-Semitism and his use of coy asides (``I never told Dora, and hope you won't tell her now'') are just two of this memoir's more irritating features. A Ror-ation full of sound and fury, signifying nothing. Stop already. (b&w photos, not seen) -- Kirkus Reviews, August 1, 1994-- Copyright &copy 1994, Kirkus Associates, LP. All rights reserved.

Other Entertainment
"He is one of the best writers about music that I have ever read, and that is no easy thing to do." - Stephen Sondheim


"Ned Rorem's prose is as fresh and unfailingly interesting as his music. His meditative voice, his wit, his provocative (and often provoking) ideas consitute a unique sensibility" - Joyce Carol Oates


"[His writing] brilliantly confronts artists' public reputations with the author's fascinatingly personal evaluations of their work." - Elliott Carter


"For his fourteenth book, the best writer among living American composers collects pieces mostly written to fulfill commissions--as is most of his music, he loves to remind us--and three interviews. Two-thirds of the essays are about music and musicians; the rest, about literature. The interviews saliently include Rorem's conversation with waspish critic John Simon about the latter's reputed homophobia and, in something of an about-face, gay-activist physician Larry Mass' with Rorem about his reticence to consider homosexuality as an influence on art, especially opera, and modern audiences. Everywhere, Rorem attractively demonstrates his strengths as a memorable and amusing commentator on culture. Chief among those strengths are the fearlessness with which he characterizes an artist's style, content, and attitude, and his ability to crystallize the leitmotivs of his analysis into apothegms that are as applicable to our common life as to the life of art--"We are what we repeat," for example, and "Wit stems from irony, not situation." And then there is his charm. - From Booklist, August 19, 1996, Ray Olson &copy 1996, American Library Association. All rights reserved

Dear Paul Dear Ned: The Correspondence of Paul Bowles and Ned Rorem
The correspondence of Paul Bowles and Ned Rorem For more than fifty years these two friends have exchanged letters on a wide variety of subjects, which cover much of post-War artistic and literary life. Both of the correspondents are writer/composers and, although they saw each other infrequently over the years, their correspondence reveals a remarkable exchange of insights. Common friends appear throughout the letters and include Tennessee Williams, Truman Capote, Gore Vidal, Leonard Bernstein and William S. Burroughs, among others. The authors' mutual friend Gavin Lambert has contributed an Introduction. Two hundred copies printed by hand on Somerset laid paper, the book measure 6 1/1 x 10 ". The typeface is Bembo and the book is bound in blue linen. -- The publisher, http://www.elysiumpress.com/ , October 24, 1997

The Final Diary