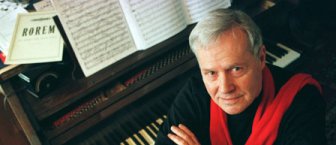 Words and music are inextricably linked for Ned Rorem. Time Magazine has called him "the world's best composer of art songs," yet his musical and literary ventures extend far beyond this specialized field. Rorem has composed three symphonies, four piano concertos and an array of other orchestral works, music for numerous combinations of chamber forces, ten operas, choral works of every description, ballets and other music for the theater, and literally hundreds of songs and cycles. He is the author of sixteen books, including five volumes of diaries and collections of lectures and criticism.

Ned Rorem is one of America's most honored composers. In addition to a Pulitzer Prize, awarded in 1976 for his suite Air Music, Rorem has been the recipient of a Fulbright Fellowship (1951), a Guggenheim Fellowship (1957), and an award from the National Institute of Arts and Letters (1968). He is a three-time winner of the ASCAP-Deems Taylor Award; in 1998 he was chosen Composer of the Year by Musical America. The Atlanta Symphony recording of the String Symphony, Sunday Morning, and Eagles received a Grammy Award for Outstanding Orchestral Recording in 1989. From 2000 to 2003 he served as President of the American Academy of Arts and Letters. In 2003 he received ASCAP's Lifetime Achievement Award, and in January 2004 the French government named him Chevalier of the Order of Arts and Letters.

Among his many commissions for new works are those from the Ford Foundation (for Poems of Love and the Rain, 1962), the Lincoln Center Foundation (for Sun, 1965); the Koussevitzky Foundation (for Letters from Paris, 1966); the Atlanta Symphony (String Symphony, 1985); the Chicago Symphony (Goodbye My Fancy, 1990); Carnegie Hall (Spring Music, 1991), and the New York Philharmonic (Concerto for English Horn and Orchestra, 1993). Among the distinguished conductors who have performed his music are Bernstein, Masur, Mehta, Mitropoulos, Ormandy, Previn, Reiner, Slatkin, Steinberg, and Stokowski.

Rorem is justly renowned for his art songs; his catalog includes more than 500 works in the medium. Evidence of Things Not Seen, his evening-length song cycle for four singers and piano, represents his magnum opus in the genre. The New York Festival of Song premiered the cycle at Weill Recital Hall of Carnegie Hall in January 1998. New York magazine called Evidence of Things Not Seen "one of the musically richest, most exquisitely fashioned, most voice-friendly collections of songs I have ever heard by any American composer;" Chamber Music magazine deemed it "a masterpiece."

Rorem's most recent opera, Our Town, which he completed with librettist Sandy McClatchy, is a setting of the acclaimed Thorton Wilder play of the same name. It premiered at the Indiana University Jacob's School of Music in February 2007 and has enjoyed subsequent performances with the Lake George Opera and Aspen Music Theater Center, with future performances scheduled at the North Carolina School of the Arts, Opera Boston, and Festival Opera in Walnut Creek, CA.

October 23, 2003 marked the composer's 80th birthday, highlighting a season of international festivities. Chief among them was the Curtis Institute of Music's "Roremania," a two-week celebration encompassing works in every genre. The birthday season brought a trio of new concertos from Rorem: Cello Concerto, commissioned by the Residentie Orchestra and the Kansas City Orchestra for David Geringas; Flute Concerto, commissioned by the Philadelphia Orchestra for its principal flutist Jeffrey Khaner; and Mallet Concerto, commissioned for Evelyn Glennie by the Madison Symphony Orchestra and the Eos Orchestra.

His most recent publication, Facing the Night: A Diary (1999-2005) and Musical Writings, chronicles Rorem's dark journey after the death of 32 year companion, Jim Holmes. In his diary, Lies, (published by Counterpoint Press in 2000) Roremsaid: "My music is a diary no less compromising than my prose. A diary nevertheless differs from a musical composition in that it depicts the moment, the writer's present mood which, were it inscribed an hour later, could emerge quite otherwise. I don't believe that composers notate their moods, they don't tell the music where to go - it leads them....Why do I write music? Because I want to hear it - it's simple as that. Others may have more talent, more sense of duty. But I compose just from necessity, and no one else is making what I need."

Rorem was born in Richmond, Indiana on October 23, 1923. As a child he moved to Chicago with his family; by the age of ten his piano teacher had introduced him to Debussy and Ravel, an experience which "changed my life forever," according to the composer. At seventeen he entered the Music School of Northwestern University, two years later receiving a scholarship to the Curtis Institute in Philadelphia. He studied composition under Bernard Wagenaar at Juilliard, taking his B.A. in 1946 and his M.A. degree (along with the $1,000 George Gershwin Memorial Prize in composition) in 1948. In New York he worked as Virgil Thomson's copyist in return for $20 a week and orchestration lessons. He studied on fellowship at the Berkshire Music Center in Tanglewood in the summers of 1946 and 1947; in 1948 his song The Lordly Hudson was voted the best published song of that year by the Music Library Association.

In 1949 Rorem moved to France, and lived there until 1958. His years as a young composer among the leading figures of the artistic and social milieu of post-war Europe are absorbingly portrayed in The Paris Diary and The New York Diary, 1951-1961 (reissued by Da Capo, 1998). He currently lives in New York City.
---
TIMELINE
1923
Born Richmond, Indiana 23 October. Son of Gladys Miller, civil rights activist, and C. Rufus Rorem, medical economist


1938
Studies harmony with Leo Sowerby at the American Conservatory in Chicago


1940
Enters music school at Northwestern University


1942
Studies with Rosario Scalero at the Curtis Institute


1944
Moves to New York City and for one year acts as Virgil Thomson's copyist in exchange for orchestration lessons;
enters the Juilliard School where he studies composition with Bernard Wagenaar


1946
Studies with Aaron Copland as a Fellow at the Berkshire Music Center in Tanglewood, summers 1946-47


1948
"The Lordly Hudson" is voted best published song of the year by the Music Library Association


1949
Moves to Paris, and remains there (with the exception of an extended visit to Morocco, 1949-51) until 1957


1951
Awarded a Fulbright Fellowship


1955
Louisville Orchestra Commission, Design, premiered by conductor Robert Whitney


1957
Awarded a Guggenheim Fellowship


1959
Composer-in-Residence at the University of Buffalo through 1961;
Eagles is premiered by the Philadelphia Orchestra conducted by Eugene Ormandy;
Symphony No. 3 is premiered by the New York Philharmonic under Leonard Bernstein and is broadcast nation-wide


1962
Receives Ford Foundation commission for Poems of Love and the Rain


1965
Professor of Composition and later Composer-in-Residence at the University of Utah through 1967;
New York City Opera gives the premiere of Miss Julie, commissioned with the assistance of the Ford Foundation;
Lions is premiered by the Detroit Symphony conducted by Sixten Ehrling


1966
Receives Koussevitsky Foundation commission for Letters from Paris;
Glen Tetley creates ballet on Lovers;
publication of first book, "The Paris Diary"


1968
Award from the National Institute of Arts and Letters


1969
War Scenes is premiered by Gerard Souzay


1971
ASCAP-Deems Taylor award for "Critical Affairs, a Composer's Journal" (Rorem's fifth book)


1973
Missa Brevis receives its premiere at the American Guild of Organists convention


1975
ASCAP-Deems Taylor Award for "The Final Diary."
Cincinatti Symphony commission Air Music is premiered by conductor Thomas Schippers


1976
Air Music receives the Pulitzer Prize


1977
A Quaker Reader, Rorem's first major work for organ, is premiered by Leonard Raver at Alice Tully Hall, Lincoln Center;
is awarded honrary Doctorate of Fine Arts by Northwestern University


1980
Begins teachng composition at the Curtis Institute in Philadelphia;
spends first summer as Composer-in-Residence at the Santa Fe Chamber Music Festival, where he will return in 1982, 1985 and 1990;
appears with Festival musicians in premiere of The Santa Fe Songs


1985
Atlanta Symphony Orchestra conducted by Robert Shaw presents premiere of String Symphony;
Mendelssohn Choir of Pittsburgh and the Pittsburgh Symphony conducted by Robert Pgae give the first performance of An American Oratorio


1989
New World Records recording of String Symphony, Sunday Morning, and Eagles with the Atlanta Symphony Orchestra wins Grammy Award for Outstanding Orchestral Recording;
Receives American Guild of Organists Composer of the Year honors;
Anne la Bonne, commissioned to celebrate the centennial of Jean Cocteau's birth, has its premiere in Los Angeles


1990
Goodbye My Fancy, commissioned for the centennial of the Chicago Symphony, is given first performance by Leonard Slatkin and the Chicago Symphony and Chorus;
Composer-in-Residence at the Santa Fe Chamber Music Festival where he performs in premiere of The Auden Poems


1991
Carnegie Hall Centennial commission Spring Music is premiered by the Beaux Arts Trio
Autobiography planned for publication by Simon and Schuster